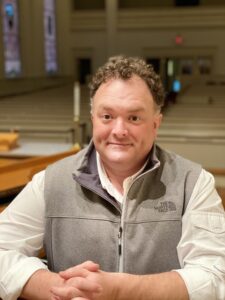 Adam Love
Pastor
Except for a few years spent away at school, Adam has always called the Tri-Cities area of Tennessee home. He is a graduate of Tennessee Wesleyan College and the Candler School of Theology at Emory University. His wife, Bobbi, is the Director of Social Work at the Salvation Army in Johnson City, TN. They are the proud parents of two daughters, Madeleine and Annie.
Adam is passionate about worship and Bible study. He believes the church is in a necessary season of learning again what it means to be Christians in the world. He is grateful to be part of Mafair.
He loves cooking, reading, Braves baseball, and golf.
---
Steven Spell
Minister of Congregational Care
Steven began serving at Mafair in August 2022. He works as a hospice chaplain with a healthcare company in the Tri-Cities area, where he visits patients and family caregivers to provide spiritual care – which often includes singing gospel hymns while playing his ukulele.
Steven grew up in Hattiesburg, Mississippi. He is a graduate of the University of Southern Mississippi, with a master's degree from Indiana University. He earned his master of divinity degree from Emmanuel Christian Seminary at Milligan. Steven has previously served as a chaplain at Asbury Place in Kingsport, and as a local pastor for United Methodist churches in Limestone, Tennessee. He and his wife and daughter live in Kingsport.
---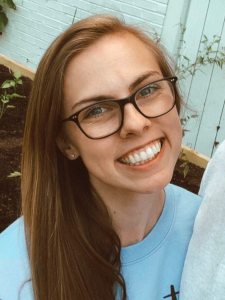 Annie Coleman
Director of Student and Young Adult Ministries
Annie is an ETSU graduate with a Bachelor's degree in Political Science and Legal Studies. Annie has always loved working with youth and children. She is thrilled to fulfill God's call to ministry as the Student and Young Adult Director at Mafair, her home church.
Annie married Jackson Coleman here at Mafair in May 2019. They met at Dobyns-Bennett High School, where they both graduated. Their daughter Blakely was born June 21, 2021. Annie and Jackson love ministering to the kids, youth, and young adults of Mafair together.
Annie loves spending time in nature, going for runs around Kingsport, and enjoying a cup of coffee with her journal and God. On Saturdays you will likely find the Colemans eating sushi at Stir Fry Cafe, cheering on the Vols at Neyland Stadium, hiking around Bays Mountain, or binging a TV show at home.
Annie's dream for Student and Young Adult ministry is to share her love of God, our neighbors, and His creation with the young people of Mafair. She prays this ministry will inspire a new generation of Christians to love God fiercely and seek an intimate and ever-growing relationship with our living Savior.
---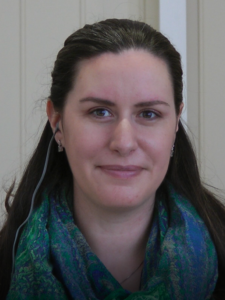 Kristen Marian
Music Director
Kristen grew up in Horseheads, NY. She received her bachelor's degree in music education from Mansfield University and her master's degree in education from Cabrini College. At Mansfield, she studied vocal technique under Dr. Douglas Crowder, and choral conducting under Dr. Peggy Dettwiler.
Her twelve years of teaching included everything from high school orchestra to elementary general music, with her last seven years focused on elementary education and children's choir.
Her performance experience includes being a member and soloist with North Country Chorus of Vermont, and she is currently a member of Voices of the Mountains here in Tennessee. She toured internationally with the Mansfield University Concert Choir in 2006 performing in Greece, Turkey, and Bulgaria.
She now lives in Kingsport with her husband Charles. Together, they own and operate Mariano Machine. Her hobbies include singing, painting, baking, board games, and various outdoor activities.
---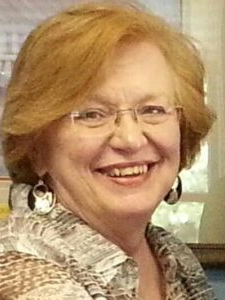 Glenda Gray
Pianist
Glenda was born in Johnson City, but raised from the age of 5 in Mountain City, Tennessee, where she graduated from Johnson County High School. She attended Appalachian State University before transferring to ETSU, graduating from there with a degree in piano performance. While working in a music store in Johnson City, she returned to ETSU to study accounting, and eventually passed the CPA exam. Glenda has the unique distinction of being a CPA without a degree in accounting. She has been a partner in two CPA firms, and now works part-time for Blackburn, Childers & Steagall, PLC in addition to serving as staff pianist for Mafair. She married Carroll "Tubby" Gray in 1970, and they have a daughter, RebaAnn, who lives in Chico, California. Glenda has served in various capacities of the local and district UMC, as well as at the Conference level. However, her greatest pleasure in serving Him has been through the music ministry at Mafair; it has truly been one of her supreme joys for which she will always be grateful!
---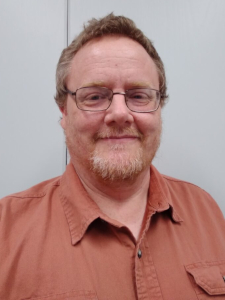 Ray Johnson
Communications Director/Organist
Ray joined Mafair's membership on Easter 2017 and comes to us with experience as a staff member from other churches in various roles. His knowledge of The United Methodist Church and our own internal Mafair structure – as well as technical knowledge in our various software applications – helps us and keeps him very busy.
During the week, you can find Ray in the office. On Sundays, he is twisting knobs and pressing buttons in the tech booth or pulling stops and pressing keys at the organ console.
Ray is originally from the Chicago suburbs but says he got to Kingsport as soon as he could. In his spare time, Ray enjoys all things computers and likes just about every kind of music.
---
Becky Jaynes
Financial Administrator
Becky was born in Mountain City, TN but has lived in Kingsport most of her life. She is a graduate of Dobyns-Bennett and Northeast State with associate's degrees in Accounting and Business Management. Being outdoors is her favorite hobby. Her husband, daughter, and stepson keep her busy. She is excited to be a part of Mafair UMC staff.